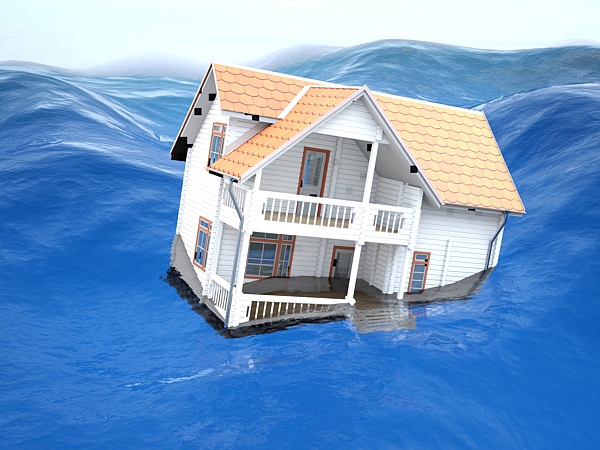 I'm not in a flood zone.  Should I buy flood insurance anyway?
Flood insurance is mostly recommended even if you are living in an undetermined risk area. In some areas, flood analysis is yet to be conducted but this doesn't mean that they are without the risk of a flood. In fact, the majority of the US has been mapped for the likelihood of flooding so even though where you live is less than a high-risk, flood insurance may still be recommended to give you the protection you need in case the unexpected occurs.
Additionally, floods can be caused by other factors such as dam failure which is not accounted for by the FEMA maps. This means that your home may not appear in a flood zone mapped by FEMA but if it's downstream of a dam, you are still at serious risk of flooding. Other factors such as construction and new developments can expose your property to flooding.
What's a flood insurance policy?
A flood insurance policy can protect the structure of a property as well as its contents from any form of water damage as a result of a flood. It is important to note that a typical homeowners insurance policy doesn't cater for any damages caused by floods. If you live in an area that is prone to flooding, you need to consider getting the proper coverage.
Who needs flood insurance?
There are two main things that a homeowner needs to consider to determine whether they need flood insurance. First is whether there is a risk of floods in their area. Second is if the mortgage lender or state requires it. The federal government may require homeowners to purchase flood insurance especially if their property is situated in a high-risk area such as a coastline. Lenders may also require flood insurance for their own protection when giving you a mortgage. If you are living in an area that is considered a high-risk category by the Federal Emergency Management Agency (FEMA), it's a great idea to get flood insurance if it's not already required by your mortgage lender or state.
What's covered by flood insurance policy?
When buying flood insurance, you will need to choose deductibles for the structure of your home as well as its contents.
Typically, the flood insurance policy will cover the following under the structure of your home:
The property's foundation
Electrical and plumbing systems
Water heaters
Appliances like refrigerators, oven and built-in appliances
Carpeting that is permanently installed
Central air system
Furnace system
On the other hand, flood insurance will also cover the contents of the home. This includes items such as:
Clothes
Furniture and electronics
Appliances such as washers, dryers, microwaves, dishwashers among others
Before you rush to purchase flood insurance, understand the estimated value of items in your home. Remember that each of these categories has its coverage limit. For instance, if the furniture has a limit of about $2,500 it means that in the event of flood damage, the insurance company will only reimburse up to $2,500. If your items are worth much more than this, it's wise to consider additional protection for such categories.
For more information about how The Sena Group can help you with any
of your insurance needs, please contact us at 561-391-4661.
We can be found on Social Media at the following links.
The Sena Group
6501 Congress Ave., Ste. 100
Boca Raton, FL 33487
561-391-4661