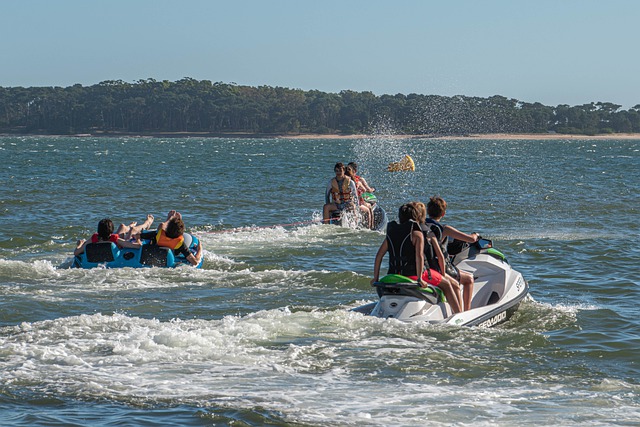 Cover Your Personal Watercraft with Good Insurance
Personal watercraft (PWC) are extremely popular, especially in South Florida, where opportunities to enjoy PWCs abound. You may be surprised to discover that they're considered to be a vessel, requiring you to comply with safety equipment regulations. That includes life jackets (PFD), navigation lights, distress signals, and a sound-producing device.
A new PWC can cost as little as $5,500 and go up to $20,000, depending on the manufacturer and desired features. The average price in 2022 is about $12,500. A PWC represents a considerable financial outlay. As such, it's important to insure it with the best policy you can get, without breaking the bank.
Shop Around
Don't rely on your home or auto insurance company as the only option for insurance. Shop around and get at least three quotes to compare. Cheap doesn't necessarily mean best. Be sure to find out exactly what's covered, the coverage amounts, and what your deductible will be before the insurance company will pay anything toward personal injuries or property damage. Remember – personal watercraft are highly targeted items for theft and few are ever recovered.
Cost
The cost of insuring your PWC can be as little as $150 per year to as much as $500. Costs will depend on factors that includes the make, model and year of the craft, the engine's horsepower, and maximum speed it can attain. You may be able to obtain a discount on the cost if you've completed a boater safety course.
Coverage
Your PWC insurance policy will cover medical expenses should you or a passenger sustain an injury in an accident. Each insurer will have specified limits on coverage, but you can purchase additional coverage that typically tops out at $25,000.
PWC insurance should also cover personal items that includes clothing, phones, sunglasses and other items. The coverage is typically limited to $5,000 for repair or replacement. The cost of personal items may be pro-rated.
It's especially important to ensure that your policy provides for complete replacement if the PWC is determined by the insurer to be a complete loss or if it's stolen. One thing to determine is if the PWC is replaced at current value, the value when it was first insured, or if it's pro-rated to factor in the age and condition.
For more information about how The Sena Group can help you with any
of your insurance needs, please contact us at 561-391-4661.
We can be found on Social Media at the following links.
The Sena Group
6501 Congress Ave., Ste. 100
Boca Raton, FL 33487